Skip Navigation
Website Accessibility
I (Quilt Doodle Designs) often draws on themes of nature for design inspiration, this time focusing on my love of gardening and bird-watching for this new collection and the accompanying projects. A 24" panel and a Strip-It design add countless creative options for quilts, accessories and decor items. " I have a couple of beekeepers in the family tending to the health and preservation of the bee population in Minnesota. And, one 'sweet' perk to knowing beekeepers is the endless supply of honey." The palette combines soft greys with ivory and soft, creamy yellows that remind Cindy of spun honey. Available to order now from Marcus Fabrics. Available in November 2023.
Look for my upcoming embroidery and embellishment tutorials at QuiltDoodleDesigns.com

Quilt Shops! The patterns are available to order!
Family memories are all the inspiration Cindy Staub (Quilt Doodle Designs) needed to capture the fun of a Minnesota winter!
"The Snowfolks collection features snowmen enjoying some of our favorite winter activities, like making s'mores by a campfire, sledding, and ice fishing. When my boys were younger, it was snowboarding that topped their list," she says.
Cindy's signature panel also features her sweet little Basset Hound, Josephine. Use this delightful panel to showcase your love for embroidery, or create with the panel as it is. Cindy also brings back a Strip-It print, combining strips of eight different coordinates for lots of easy and creative options! Available now to order through Marcus Fabrics.



~Season Sampler NEW 2022 ~

My new Season Sampler begins with the ready-to-embellish pre-printed panel. Season Sampler is a fun new 4-part Club consisting for four seasonal mini quilts. The quilts measure 49" x 49" when finished. Club can be operated as a quarterly or half-year program. (Spring-Summer, Fall - Winter) Visit the Marcus Fabrics website for more details.




~ Bundle Up! ~

My new Bundle Up BOM begins with the ready-to-embellish pre-printed panel, which she surrounds with new PRIMO PLAID FLANNELS. The flannels are pieced to create borders of snowball, pine tree, star and snowflake / pinwheel motifs, all in perfect "frosty" winter blues! Bundle Up BOM is a 6 month program beginning in March 2021. Visit the Marcus Fabrics website for more details.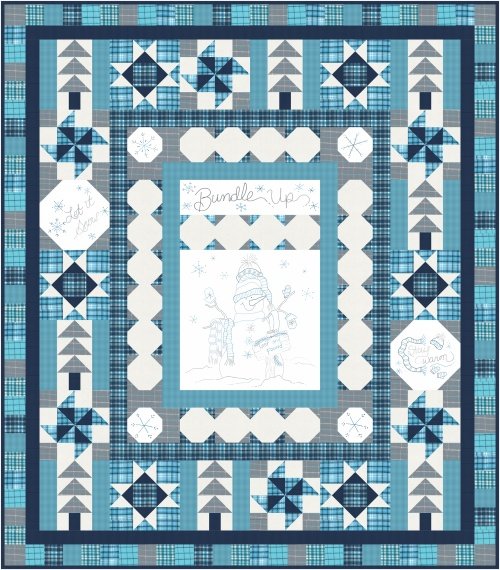 ~ Woodland Getaway! ~
I've enjoyed designing the Woodland Getaway panel. Which was inspired by our many fishing and camping trips. The Woodland Cabin/lodge is a cozy place where family memories are made! I love that the moose, bear and deer are colored and look appliqued when sewn into the quilt block for the BOM quilt. The six month program is available thru Marcus Fabrics beginning May 2020.

~ Snow Globe! ~
I am so excited to present to you my fabric panel from Marcus Fabrics! It combines a focal panel along with a few smaller designs that can be used for the BOM quilt program thru Marcus Fabrics . The panel alone has many possibilities! Sweet mug rugs, mini quilts, pillows, a winter themed wall hanging! I've paired this panel with Marcus Fabrics Primo Plaid. I love the cozy, snuggly feel and homespun look of my Primo Plaid Flannel quilts. Marcus' New Blues palette brings quilters a classic American combination of denim blues, matched with just right shade of white -- not true white, not cream, but the perfect marshmallow windowpane design."
For more information on the 'Snow Globe' BOM program from Quilt Doodle Designs, visit Marcus Fabrics for more details about this exciting 5 month program!